Molly Sims on motherhood, beauty and her NEW book!
Meeting Molly Sims was a pleasant surprise. We planned to meet at the Polo Lounge, at the Beverly Hills Hotel where most Hollywood identities go to seal a deal or two and Beverly Hills housewives gather in all their regal.
What was so refreshing was to see Molly's sparkling skin without a splash of make-up on and her long shiny locks pulled back into a high pony.
She was so warm and welcoming that I felt like I was meeting up with an old school friend. It's easy to understand why she is so well liked.
I wanted to know about her enviable style and pick her brain about her beauty routine and her new status of motherhood. Enjoy!
How has your beauty routine changed since becoming a mother? 
I have half the time to do the things I used to do since becoming a mom. I love using towelettes! They are a no-brainer. I also moisturize my skin like there is no tomorrow.
What are your skincare concerns right now? 
Hyper-pigmentation is on my list. You may not notice it when you are in your 20s or 30s, but before you know it, sun damage catches up with you. I wear SPF every day. It's so important!
What's the best beauty advice your Mom gave you? 
Get out of the sun!
How do you keep your hair super glossy and full of body?
I do conditioning masks two times a week on my hair. I use Moroccan oil on my ends and I live for dry shampoo!
What's your secret to the vibrancy you project? 
Just trying to keep it real!  I like to set goals for myself and I work hard to reach them. I also make lists to stay organized and make the very most of my time. I have a Motto: Go big or go home!
(How very southern of me!)
What has been the most memorable photo shoot for you?
It might have to be a shoot for a Michael Kors fragrance – Mario Testino was photographing me and we were driving in a Mercedes down the Pacific Coast highway.
Do you have a regular exercise routine?
Three times a week I workout with Tracy Anderson. I do 10 minutes of arms followed by 40 minutes cardio and a leg routine.
Ever had any beauty disasters? 
While on my way to a MTV House of Style shoot, I put toothpaste on a zit and burned off two layers of my skin. Um… it wasn't the best look for TV…
What is the one beauty product you won't leave home without? 
An eyelash curler!!
What is your book about? Is it inspirational? A biography? 
It's called The Everyday Supermodel. The book is all about my tricks of the trade from the past 20 years.  I talk openly and honestly about it all: fashion, beauty, health and fitness.
And when will it launch?
April 2014!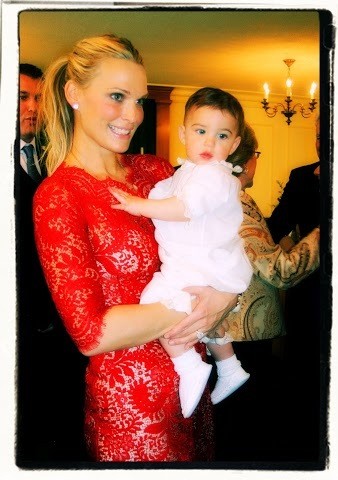 Molly with her son, Brooks Stuber at his Baptism, March 23,1013.
Related posts