Jess Hart for The Aussie Beauty Bulletin
Jess Hart's Secret Beauty Weapon.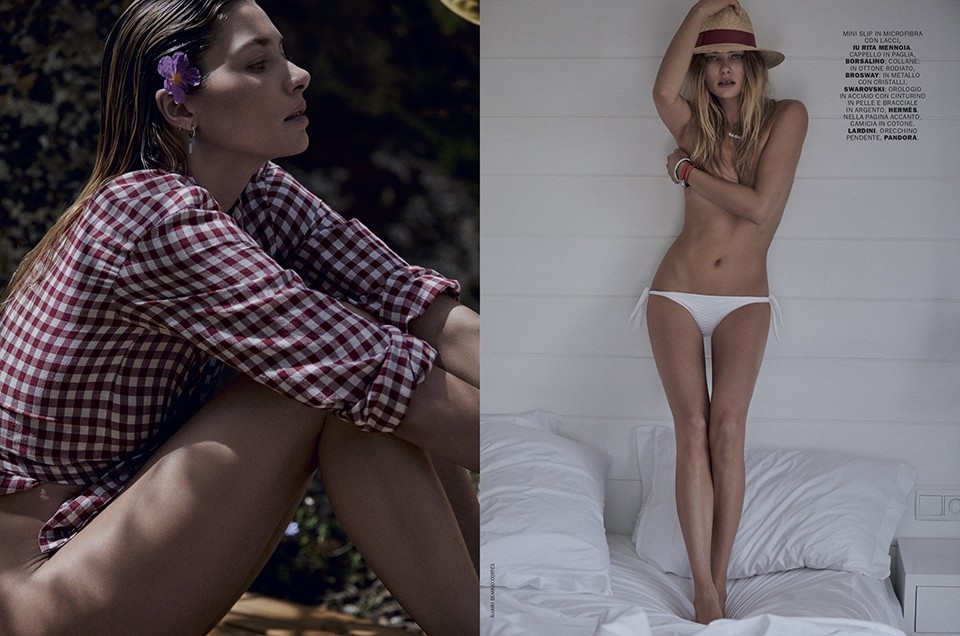 She's appeared in campaigns for Guess, walked the Paris runway for Victoria's Secret and Louis Vuitton and has appeared on countless magazine covers.  Now Aussie golden girl, Jessica Hart, has managed to add cosmetic co-owner for LUMA Cosmetics and swimwear designer for Solid and Stripes to her resume. I caught up with Jess before shooting an editorial with Italian Marie Claire to quiz her on how she does it all while looking like a total bombshell.
My day on a plate is…
different everyday but I always start my day with coffee.
My ultimate indulgence (food wise) is…
a burger, but I believe in a balanced healthy diet. It's okay to indulge and eat those foods you really love. I'm just like everyone else.
My skincare routine starts … 
by removing my makeup with Bioderma's Sensibio H20 Micellar Cleanser if I've been working, then washing with LUMA Fresh Start Cleansing Gel. After cleansing I spritz with a face mist (I love Nu Skin NaPCA Moisture Mist) and apply the LUMA Brighten up Beauty Serum which is a beautiful oil-based serum of Jojoba and Rose Hip oils, and Crushed Pearl. I'll finish off with Lepaar Skin's Lip Balm.
Lepaar VELVET FACE + LIP BALM $45 AUD LINK
Bioderma's Sensibio H20 Micellar Cleanser; $22
LUMA Fresh Start Cleansing Gel; $29.95 LINK
LUMA Brighten up Beauty Serum; $39.95 LINK
Nu Skin NaPCA Moisture Mist, $21.50 LINK
My every day makeup look is…
so low maintenance. I'll usually just apply our LUMA Tinted Beauty Balm in Light, highlight with the LUMA On the Glow Highlighter in Cashmere Casbah and I always use the LUMA Lip & Cheek Tint in Muse and fill-in and fluff my brows with Beyond the Brow for a natural look. One thing I always use is an eyelash curler (any brand, as long as it works!) – I hold it close to the lid and pump a few times for natural looking length and definition.
My desert island makeup pick is…
LUMA Brighten Up Beauty Serum. $39.95 LINK
I keep my hair nourished with…
Oribe Bright Blonde Shampoo, $66 LINK
I love LUMA because…
I actually created LUMA! I have always been quite commercially minded and the beauty industry has always fascinated me.  Back in 2013, I was introduced to a team who was just as passionate about the beauty industry as I was, which inspired me to bring the brand to life. We first set out to create LUMA in 2013 and at that time there was a gap in the market for an affordable and natural cosmetics brand that took pride in its formulations. I have always believed in enhancing a woman's natural radiance and complementing her features rather than masking them with heavy makeup – that's the whole philosophy behind LUMA.
I stay in shape by…
mixing up my fitness routine up. We have so many muscles in our body we ignore from just doing the same old workouts. I like to just do a spin class or a boxing class with celebrity trainer Eric Kelly who was former member of the U.S. National Olympic team.
Before a swimwear shoot I …
try to train at least twice a day instead of once and cut back on carbs and amp up my vegie intake.
To relax I…
go to a spa with friends, walk my dog, Floyd, in Grammercy Park and eat out at restaurants.
When I take the redeye I always pack in my carry on…
Hand sanitizer, Nu Skin NaPCA Moisture Mist, Lip Balm, LUMA On The Glow Highlighter and a cashmere wrap or scarf to keep me warm.
When I am in Australia the first thing I do is…
eat a meat pie and indulge in my favourite Aussie foods!
What people don't know about Australia is…
how well travelled we are. Because we're so far away, we travel from a young age and tend to have a global view of the world but keep our laid-back Australian approach to life.
You can follow Jess @jesshart
Related posts