With the festive season behind you it's time to get back on track and give yourself a beauty overhaul so you look and feel your best after all the fun and over–indulgences.
Brighten up your complexion
After a series of late nights your skin will look less than luminous, but there are a few quick fixes to help you regain your glow. Start with a deep cleanse by using an exfoliant such as Babor Gentle Peeling, $30USD. This will remove dull surface skin and allow creams and serums to be readily absorbed. Be generous when applying serum; apply it down your neck, décolletage and bust. Serums are wonder products as they firm and plum up skin as well as nourish and leave skin with a healthy glow.
Revitalize and de-puff eyes.
Once the only way to get rid of dark puffy circles was to hide them with concealer – which in some cases made them look worse. Today we have a plethora of eye products that can de-puff, brighten and even temporarily diffuse fine lines. The most gratifying of all are the new eye patches that have been infused with ingredients such as Vitamin C. Try, Estee Lauder Advanced Night Repair Concentrated Recovery Eye Masks, $46USD for 4. After 10 to 20 minutes your eye area is left totally de-puffed and free of any darkness. Keep them in the fridge as the cooling effect helps with puffiness.
Hydrate lips.
Your lips will probably feel dry and dehydrated after a night out on the town – alcohol and smoking in particular leave lips dry, cracked and even flakey. To bring back your perfect pout slather on Elizabeth Arden Eight Hour Cream Intense Lip Repair Balm, $24USD and smooth away the flakey bits of skin. Re-apply every time you think of it. It generally takes a day or so for lips to bounce back.
Relax and detoxify
Soaking in a warm bath with essential oils is a relaxing way to detoxify, as it allows the water to work on the entire body.
Pour a cup of bath salts in a bowl, then moisten just enough to make the grains stick together. Take a tablespoon of grains in each hand, and rub vigorously over all over your body using circular movements and work up some friction. Submerge yourself and rinse. You will find that this will make you sweat, getting rid of a lot of the toxins from the night before.
Treat your feet
Dancing all night long in this season's super high heels will leave your feet sore, so give them a good soak and make up a mixture of sugar and almond oil and gently massage in. Rinse feet and while they are still wet, massage in a drop of peppermint essential oil to give them a totally refreshing tingle. You'll feel like you're walking on air once your feet touch the ground.
Zap Spots
The combination of sweat, smoke and make-up can block pores resulting in a few nasty blemishes. Zap them pronto by applying a pimple relief product to prevent any further breakouts such as, DMK Acu-Klear Purifying Lotion, $62USD.
Day after make-up tips
Give skin a natural glow with a light application of liquid foundation like, Giorgio Armani Luminous Silk Foundation, $64USD and sweeping a peach blush over the apples of the cheeks and blend up onto your cheekbones. Dust remaining blush on your temples and along your jawline.
Apply lashings of lip balm to your lips before dabbing on just a hint of lipstick with fingers. Or apply a peachy pink lip-gloss.
Give eyes an instant lift by applying two coats of mascara to top lashes only.
Freshen up locks
Rid your hair of the smell of smoke and sweat by using a deep cleansing shampoo or a delicious smelling shampoo such as Jo Malone Lime Basil & Mandarin Shampoo $25USD.
Finally relax….
After all these pampering treats, lie down with a pillow under your knees, spray –on a facial mist and just relax!
---
Your Detox Kit…
Babor Gentle Peeling, $30USD
Estee Lauder Advanced Night Repair Concentrated Recovery Eye Masks, $46USD for 4
Elizabeth Arden Eight Hour Cream Intense Lip Repair Balm, $24USD
DMK Acu-Klear Purifying Lotion, $62USD
Giorgio Armani Luminous Silk Foundation, $64USD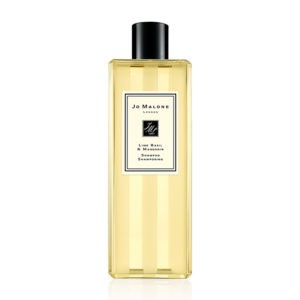 Jo Malone Lime Basil & Mandarin Shampoo $25USD