…And it definitely makes 'scents'. Having a workplace surrounded by the beautiful aroma of fresh flowers everyday can clearly inspire one to create their own signature scent.
Scent itself is related to a neurological response. So when the right ones are combined, a certain emotional response is triggered. When it comes to the relationship between scent and evoking emotion, florists know what's what. Emerging as a perfumer is a natural progression for florists, turning an art form into science.
My two favourite floral artisans that I would like to highlight  (and was lucky enough to be invited to their very glamorous and star-studded fragrance launches) are Australia's premier florist and perfumer, Saskia Havekes and Hollywood's trailblazing florist, Eric Buterbaugh who threw open the doors of his new boutique on Beverly Boulevard with a guest list of VIP's and celebrity pals.
Let's begin with Saskia Havekes, Australia's most infamous and sought after florist. Revered for her magnificent and impressive large-scale floral installations, Saskia celebrates her twentieth year in business with the launch of her third book, "Flower Addict" and her new fragrance Madagascan Jasmine.
She is the owner of Grandiflora situated in the hipster neighborhood of Potts Point, where it's not uncommon to drive by and see flowers and pots of all sizes spilled out onto the pavement.
Saskia grew up in a creative environment with her father a ceramicist and sculptor and her mother came from a long line of still life artists. She grew up with no shortage of art, pots and flowers. From a very young age she would buy her mother poises from her local florist where she lingered always fascinated with the woman's workspace.
She eventually moved to New York to work in advertising but kept finding herself in flower shops. She loved the overall feeling she would get being in them and was riveted by the smells. She knew she had to follow her heart and started working as a florist. She began by assisting a talented florist named, Alison Coates and after working under her wing for five years opened Grandiflora.
It was a natural progression to launch a fragrance collection. Her first scent "Grandiflora" was released in 2013 followed with two more since. She has also had the time to write books. Her latest "Flower Addict" is a blossoming journey of the most exquisite floral arrangements, events and poetry. "Flower Addict" along with her latest fragrance Madagascan Jasmine is what she was promoting earlier this month at Fenwick's Bond Street store in London. Beauty editors were invited to meet with Saskia, who I must say is very warm and welcoming. The space was filled with spectacular flower arrangements encased in ice and tall stakes of "Flower Addict" for everyone to read.  After poring over the pages of floral extravagances we were all given a beauty bag designed by fashion and beauty illustrator of the moment Blair Breitenstein to shop the beauty counters and collect Saskia's latest fragrance.
I definitely felt like I was that little girl back in the candy store with eyes wide open and in awe of the selection of eye candy in front of me whereas today as a woman the beauty icons everywhere made me dizzy with excitement!  Saskia herself has become a global icon and has managed to build an empire that caters to celebrities, cosmetic giants and VIP Clients. At this point the possibilities are seemingly endless for her.
The other Florist to look out for is Eric Buterbaugh. I was dazzled by all the A-list Hollywood attendees that came out to celebrate the launch of his new fragrance line at his new boutique in West Hollywood. Demi Moore and her daughter Tallulah Willis were there along with Gwen Stefani, Nicole Richie, Sara Foster, and Maria Shriver. It's no surprise these celebrities made it out, Eric is a true artist and his work shows it. Apart from his grand arrangements and earning the title of Flower King, Buterbaugh has converted his skills into releasing a fragrance line.
He has always been a lover of perfumes. Growing up in Oklahoma he spent every penny of his allowance on fashion magazines, clothes and fragrances. He would buy both men and woman's scents. As long as it smelled good he didn't care. He eventually left Oklahoma and moved to Dallas where he began his career as a celebrity stylist working under Gianni Versace. After dressing tons of A-listers he decided to part ways with the fashion world and made a permanent move to Los Angeles.
He fell into the flower world by accident after making a few floral arrangements for a friend's party just for fun. Once the event was over people were calling the host and asking whom the florist was. She referred him and the rest is history. He is the go to florist for artists like Madonna, Gwyneth Paltrow and Demi Moore. After 17 years of breathing in fresh and alluring scents he felt he had more than enough experience to extract the finest ones for his high profile clients to enjoy, along with the rest of the world.
The scents come in bottles inspired by brandy decanters and were displayed quite magnificently at the launch party. The fragrances are unisex so party guests like Tobey Maguire and Courtney Cox were able to indulge in sampling the same scents. It was a wonderful evening and I honestly got whiplash from turning my head so many times to take in all of the famous guests!
The trend of our favorite florists making the leap to perfumers is providing us with some of the most enticing scents on the market. After all, what is lovelier than the smell of fresh flowers?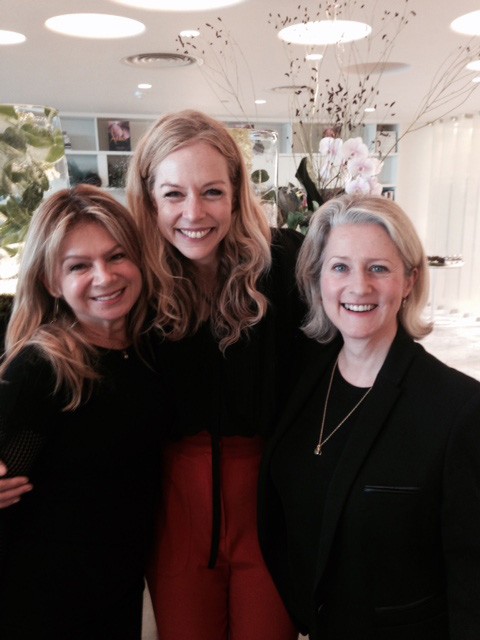 Mary Zavaglia with Saskia Havekes at the launch of Flower Addict and Madagascan Jasmine in Fenwick.