As a beauty editor who travels the globe in search of the very best in all thing's beauty, I was beyond excited to be invited to experience the spa offerings at the world famous Burj Al Arab, one of the world's most luxurious hotels.
I gasped with instant pleasure as soon as I walked through the hotel doors and was swept up in the luxury of this commanding lobby.
As I stood there and took in my surroundings, it seemed as if I had stepped into another world. Filled with gold plated everything and surfaces embellished with such meticulous attention to detail. Everything had a beautiful pattern, a touch of elegance and a feeling of wonder to it.
A very sharp, put-together doorman came towards me and ushered me to the elevator (also gold!), where he used his magic card to let me up to the spa. He sent me on my way and wished me a wonderful time. As the doors closed, I felt as if I were Alice and I had stumbled into Wonderland.
As I walked towards the reception desk, I couldn't help but take in the expansiveness of the spa and how the cleverly combined bright colors of blue, gold and green created a magical atmosphere. I was greeted with warm and welcoming smiles and my senses became receptive to the rich and opulent surroundings. I was filled with intrigue as I wondered what my two-hour bespoke treatment would be.
My therapist, Sao explained  that I was having the "Arabic Journey Treatment". A two-tiered treatment that included a massage and facial. I felt myself surrender to her sweeping movements and soon I was in a sleeping trance – I knew I was having a massage as I could feel the warm oil deeply penetrating my muscles with a seamless range of remedial techniques and pressures concentrating on my areas of concern. I felt like I was in a wonderful dream floating away. It was a surreal and meditative sensation that I hadn't experienced before.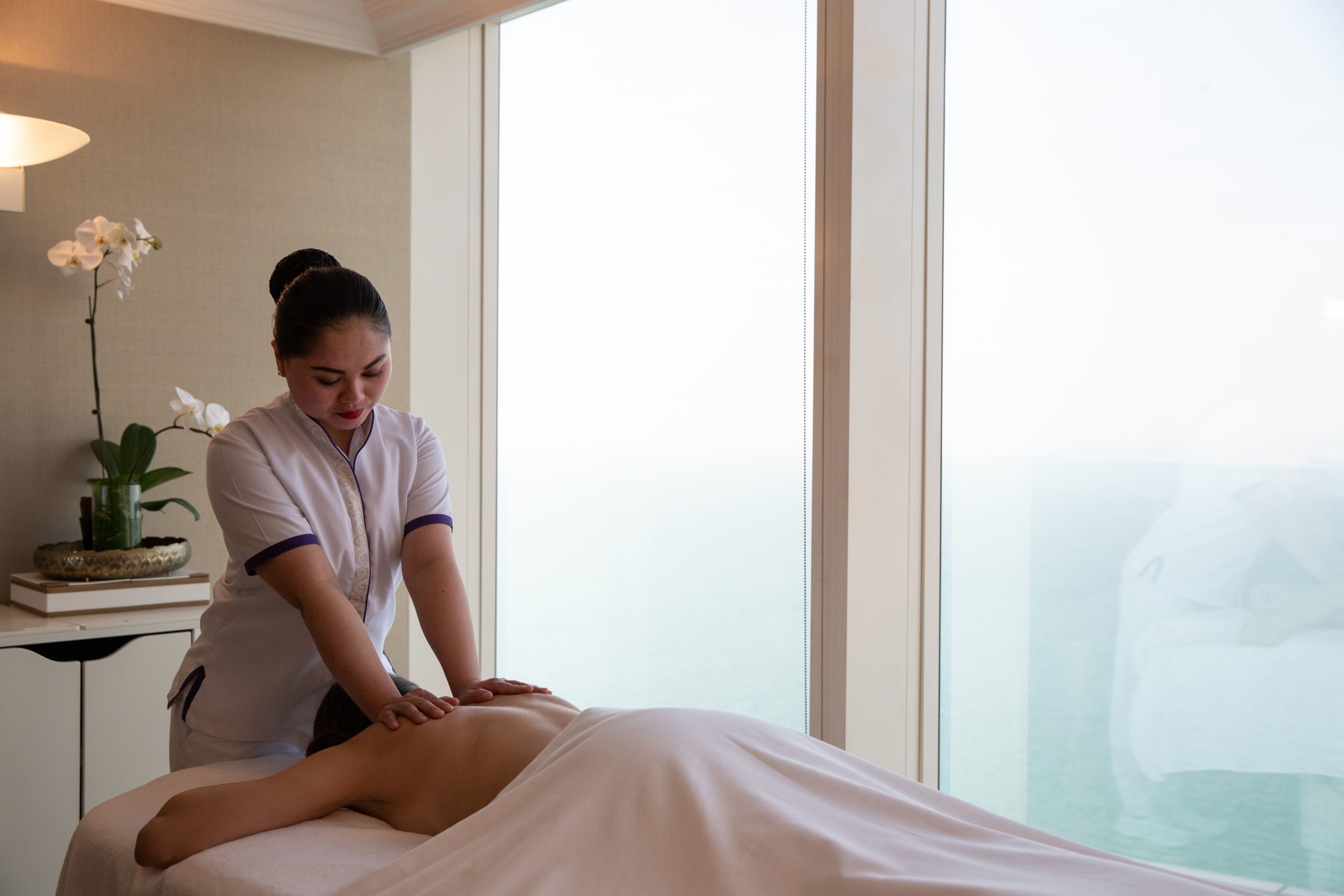 The signature facial combined the use of pressure points and deep uplifting movements. It was like a work-out session for my face. When I catch my reflection in the mirror as I put my robe on, I see baby smooth skin with a lit -from-within-glow.
As I slowly made my way to the relaxation area in a blissful trance, I couldn't help but think how these people in the Middle East knew a thing or two about luxury pampering. I've always been fascinated by the culture and beauty of these women and now more-so -than-ever!
When I meet with the Spa Director, Catarina Goncalves, I notice her porcelain skin, sparkling eyes and vibrant smile. We instantly like each other and discuss at length why after 19 years the Al Burj Arab Hotel and its Spa is still the number on hot-spot for celebrities, heads of states/governments and the Emirates people.
Catarina says, "When guests visit our award-winning Burj Al Arab Spa they don't just come for a treatment, they come for an experience. They want a unique spa journey. Our half-day packages are our most popular as guests can lounge by our indoor infinity pool after their treatments and can sip our special ginger tea."
As a fully qualified physiotherapist Catarina became involved in the world of beauty when she worked in a medical clinic along-side doctors that performed non-invasive procedures. Catarina also used her physiotherapy skills to help patients with their recovery. It was at this point that she knew that combining physical touch and topical beauty therapies was a direction she wanted to work in.
"The hands are the eyes for the therapists, as they can feel what the body needs, creating a magnificent result for the guest" explains Catarina. She has developed specialized body and advanced beauty treatments that are unique and very popular with both men and women.
As I leave Dubai and fly home to Los Angeles, I realize just how influential and powerful the Emirates women are when it comes to luxury, fashion and beauty. I can't wait for my next visit to Wonderland!

My top 3 beauty tips are…
Don't leave home without sunscreen.
Keep cuticle oil handy so nails and hands look well-nourished at all times.
Even if I want to be make-up free, I always apply a moisturizing lipstick.
For more details on Burj Al Arab hotel and spa go to their website
www.Jumeirah.com/Dubai/Burj-Al-Arab